Welcome to DavidOlney.com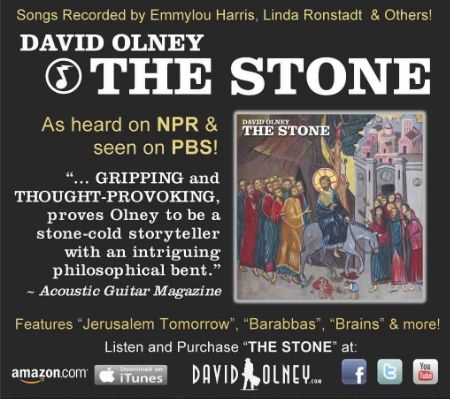 Likened to Tom Waits, Johnny Cash and Randy Newman, David Olney has had
songs recorded by Emmylou Harris, Linda Ronstadt, Del McCoury, Lonnie Brooks, Tim O'Brien, Kane/Welch/Kaplin, Steve Young, Nimah Parsons, Freek de Jonge, Ann Rabson and many others, in addition to releasing more than 20 albums over four decades, including six live recordings, and touring worldwide. In early 2013, Mr. Olney's "Postcard From Mexico" song was prominently used in the ABC-TV "Nashville" show. In addition to always being on the road, David broadcasts every Tuesday on his website with his "You Never Know" video shorts ­ featuring the story behind a song and it's performance along with other personal observations ­ in addition to sharing his other music videos and stellar classic poetry recitations ("The Rime of The Ancient Mariner" in seven parts!) on YouTube.